Sanjiang village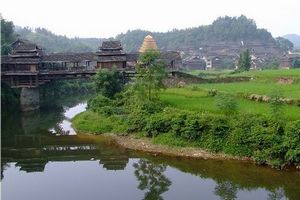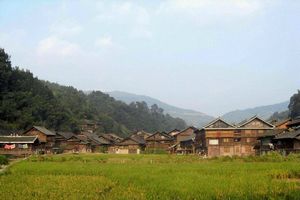 Sanjiang Dong Autonomous County lies at the north of Guangxi, the boundary between the three Provinces of Hunan, Guangxi and Guizhou. There are Dong, Miao, Yao, Zhuang and Han nationalities living in this area. It is considered the center of Dong Minority with 190,000 people which occupies over 50 percent of the total population of the area. It is about 160 km north to Guilin city,
With its unique Dong minority architecture of Drum Towers, Wind and Rain Bridges and Dong minority buildings, the small town has become a popular destination for tourists who finish tour to Guilin, Yangshuo and longsheng.
Chengyang Bridge of Wind and Rain is the landmark of Sanjiang built by Dong villagers in 1916, it took their 12 year to build the bridge, without a single nail and secured solely by wooden pegs. It is 78 meters long, 3.3 m wide span. It is considered the finest and most beautiful of 100 wind and rain bridges still standing in China.On the bridge you will meet minority women sell their souvenirs.
Chengyang is very nice place for tourists' exploration of culture and natural landscape and remote countryside, including 8 villages, you can walk along the villages to see the rural relaxed and simple life, enjoy the views dotted with Dong villages and water wheels. A further walking experience into the minority villages allows you to learn more about the unique ethnic festivals and customs of the Dong people.
Dong people inhabiting Sanjiang areas continue to display the richness of their cultural heritage as excellent musicians, superb architects, and makers of high quality textiles. Sanjiang is a land of song, the Dong are especially famous for their chorus singing. Traditionally the Dong had no written form of their language. But the Dong's history and ancient legends were imbedded in song. Dong festivals occur throughout each year, varying from Bull fighting Festival to Bird-fighting Festival, competitive Fireworks Festival to colorful Singing Contest. Local food, and speciality such as sour fish and pickled pork are tasty dishes to sample, oiled tea and rice wine are always good drink to increase your mental activity.