Silver Cave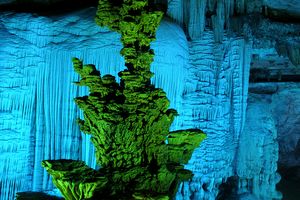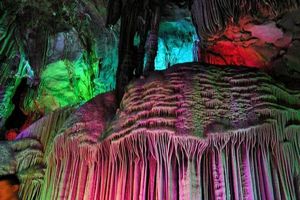 Silver Cave is located 85 km south of Guilin and 18 km from Yangshuo. The Silver Cave and its surrounding area is like a hug natural bonsai embraced by hill. There are graceful Little Green Hill and Chaozhai Hill standing unique on the land, thousands of peach trees scattering about, fragrance of fruit blossoms floating around in the air throughout the year. And the singing of poultry can be heard in the neighborhood. The area contains oaring boat and fishing on the Green Lake, Cliff Climbing at the Red Hill Precipice. It is exciting and joyous. So the area is called " Green poetic homeland".
It got its name after the stalactites look like silver under the lights. The Silver Cave is a storied cave penetrated through twelve hills. Nowadays, 2 km of the cave has been presented to tourists. It consists of three parts, the lower cave, the grand hall and the upper cave. It collects stalactites of different geologic ages and some tens of remarkable scenic spots, taking the Screen of Music, the Deep Moon Palace and Waterfalls on Snow Hill as the example of matchless shots, alongside with the three treasures of the Buddha Discussing on Buddhist Sutra, The pearl-decorated Umbrella and the Solitary Pillar Propping up the sky. Experts on karst geology from France praised the cave as The World Limestone Cave Miracle.
Silver Cave is the most beautiful cave in Yangshuo Guilin area.