Elephant Hill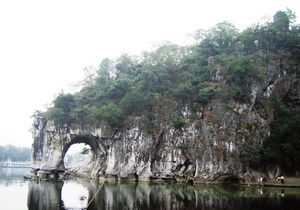 The elephant hill lies on the southern corner of Guilin, where the Peach Blossom River joints the Li River, is one of most-visit parks in Guilin. It is regarded as the symbol of Guilin and 220 meter above the sea level. The shape of the hill is just like a huge elephant drinking water from the river with its trunk, so it is called Elephant Trunk Hill.
Shui Yue Cave (Water Moon Cave) is between the trunk and the legs, which is a semi-round cave penetrated by water. The inverted reflection of the cave in water plus the part above forms a full moon. This phenomenon is unique and many laudatory inscriptions of beauty of hills and waters from Tang and Song Dynasty nearby were found on the wall inside the cave. Visitors can boat through the cave to the river and especially in the moonlit night will see the moon being reflected in the water.
On top of the hill stands a pagoda named Puxian Pagoda. Built in the Ming dynasty (1368-1644), it looks like the handle of a sword seen from distance and many beautiful legends about the pagoda with good wishes are said among people. There are many carvings and inscriptions inside and outside the cave.
Near the hill, there is a love island, it is very nice place for tourists walking around to enjoy the Li River and surrounding landscape. Even drink beer, eat local rice noodle and barbecues sitting the chair with your legs under water.
There are flagstone up to the top of hill and you will have a bird's-eye view of Guilin city.