Gudong Waterfall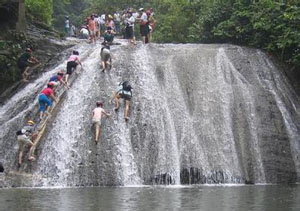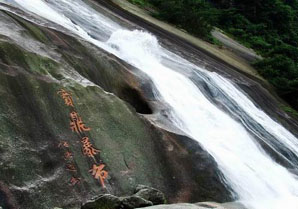 Gudong Waterfall Park is newly developed scenic spot and situated in the east side 26 kilometers to Guilin. The national park covers 1000 acres and feature virgin forest. The waterfall is clear and clean, It consists of Butterfly lake, Lingshui Valley, 8 waterfalls, 9 pools, maple tree forest and other attractions.
There are a total of eight waterfalls in Gudong National Park and every one is unique. The most imposing is the Curtain Waterfall. Water slides down gently to form a wide curtain. The waterfalls not only provide a recreation area, but also offer some water activities like climbing up the waterfall. The waterfalls let tourists climb, touch and play, all waterfalls are suitable for climbing, along the way up there are metal chain hanging on all waterfalls to make the climbing safe.
Climbing up the steps in National Park is a bit exhausting with many steep steps but there are some stops at every waterfall for you to take a rest. Don't worry the park guide will always go slow and allow time for rest. The guide will normally ask for consensus whether to continue climbing as high up the steps are much steep.
You feel more and more harder while you climb up the waterfalls. It is called Touching Waterfall, a very good place for the mountain climbers and hikers.
It takes you about 2 or 3 hours to complete your tour in this park.