Yangdi Town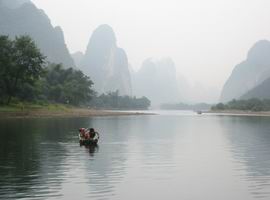 Yangdi Village lies in the south of Guilin, it has population of 3000 people. The most beautiful and unique peaks are along the Lijiang River between Yangdi and Xinping Village, which is about a third of the way to Guilin from Yangshuo. It is home to many scenic spots including Yangdi flying waterfall, Down stream from Yangdi to Xinping, you can see endless towering pinnacles, bamboo groves and stunning landscape. Water buffalos patrol on the fields, duck paddle on the waters, while farmers reap paddies in the front of village houses, fishermen use cormorants to catch fish, kids go to school singing songs, all these create an idyllic and beautiful scene of the life removed from the cities.
Most photos from photo books or internet are taken from Yangdi or Xingping. It has 2 highlights nearby Yangdi: Yangdi scenery and Langshi scenery.
If the water is low in winter, the starts of li river cruise is from here to Nice Horses Hill and back to Yangdi Yangshuo.