West Street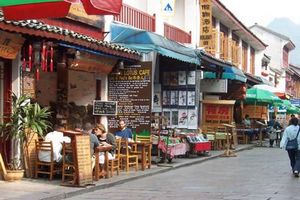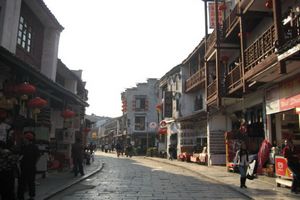 West Street (Xi Jie) is situated in Yangshuo, the most beautiful town along the Li River. Built in 590 during the Sui Dynasty with the Li River passing by on the east, the street, which has experienced much wind and rain, is still well preserved, revealing the resplendence of past days. Yangshuo boasts some of China's most gorgeous scenery.
West Street is greatly admired by foreigners for its simple style and courtyard-like setting. It is also called 'foreigners street' by some locals. At times, foreigners outnumber Chinese, and apart from the local Yangshuo dialect, English has become the language for daily use, nearly every store having bilingual shop signs. Some stores are run by foreigners, decorated with bamboo rafts, fish baskets, wax-painted tablecloths, and so on.
It has become a mix of eastern and western cultures and the biggest "foreign language center" in China. West Street is the most prosperous part of Yangshuo. There are arrays of unique country residential buildings, houses, all sorts of western bars, cafes and restaurants, Chinese art shops and clothes stalls. You will find a mixed world of authentic Italian coffee, English sign boards and traditional Chinese painting and porcelain works.
Spending an afternoon of leisure time in a western cafe or bar is very fashionable. Many restaurants and Cafes are very popular here for both the comfortable environment and good service. You can tempt food from all over the world, such as ciba (a type of rice cake) Yangshuo rice noodles, and western style food, sitting in a cafe, drinking a cup of coffee or tea, and let the wonderful scenery and dulcet music take you to a fantastic world.