Liu Sanjie Sound and Light Show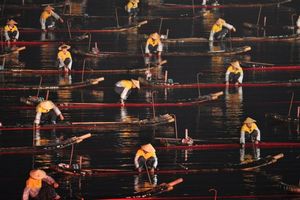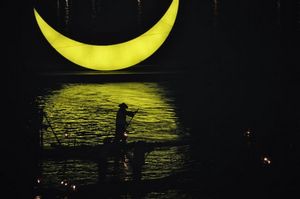 Zhang Yimong: The director of the Opening Ceremony of Beijing Olympic Games in 2008 and one of the best director in China.
Impression Liu Sanjie is a grand musical show directed by Zhang Yimong, the famous director of films like Raise the Red Lantern and Hero, on the largest natural theatre in the world consisting of area of 2 km long Li Jiang river and 12 peaks as stage setting. This shows starts from 2004.
The magnificent background setting, artistic neon lighting, and celestial beauty of the show will take your breath away. The story is about a legendary figure Liu Sanjie who represents the beauty, love, and courage to upright the landlords. A poetic and dream-like vision is created with the adoption of the largest cale artistic neon light and unique man-made smoke effect system in China. The sound equipment of the theatre is designed by covert means integrating with the surroundings. Peaks, as a natural protective screen and echo, are utilized ingeniously producing purely natural stereo effect.
With the theme of Liu Sanjie, the performance combines the classical folk songs of Liu with folk cultures. 600 actors and actresses, 500 singers & dancers, bamboo boats and cormorants birds are used in this 70 minute show. it provided a strong backdrop to the hundreds of farmers on bamboo rafts, and floating stages, awash in color and light. Lights on the fishing boats, integrated with the surroundings, present harmony between humans and nature. Thus, it is regarded as a great work created by the Creator and man.
There are 2600 seats for audiences, of which 2300 seats for common people, 260 for VIPs and 60 for Presidents.
The show starts in Yangshuo at about 8:00 pm each night, ends at 9:10 pm.
The rate of the show. ( The price does not include the transport)
Normal seat: 280 Yuan.
VIP ticket( bamboo chair with back, better location and view) 360 Yuan per person. ( Strongly recommended)
President ticket: 680 Yuan per person.